编者按:
今年一月塔夫茨在香港举办了一次外联活动,很多校友借此机会加深和老朋友的感情,并结识了新朋友。自此,我们就在不断思考如何将这种活动的影响力放大,不仅仅局限于一个城市或者一个国家,而是整个亚洲地区。"校友访谈"即是这种思考的产物之一。
这个系列的受访者都来自亚洲地区,访谈主要展现他(她)们在塔夫茨的学习生活以及毕业之后的职业发展情况,目的在于增加大家的了解,建立起一个互相支持的网络。初步计划每两个月推出一次访谈每两个月推出一次访谈,如果希望通过这个平台分享自己的经验,请与Yiqing Li('14,微信号chrisyiqingli)和Jessie Wang('14, 微信号jessiewang14)联系。
本期看点:
下文是校友访谈系列的第二篇,之前我们分享了Bruce Wang在北京的精彩生活,接下来两期我们将分享Ben Wang和Yihao Li申请研究生院的一段经历,为那些希望在毕业后或者工作后继续深造的同学提供借鉴。
Ben和Yihao都是2014年从Tufts毕业,工作两年后又同时被哈佛肯尼迪政府管理学院(Harvard Kennedy School,HKS)录取。他们在本科就读期间以及工作过程中积累了丰富的经验,为申请打下了良好的基础。这一篇主要是对Ben的访谈,对Yihao的访谈将在稍候刊出。
关于Ben Wang(王韵墨):
Ben出生于中国,在加拿大长大,2014年从Tufts毕业,主修国际关系及政治学,辅修经济学。毕业后,Ben加入欧亚集团(Eurasia Group, 一家位于华盛顿特区的智库),跟随前奥巴马政府高级亚洲顾问开展与中国有关的咨询工作。
采访:王嘉璇 (Jessie Wang),Yiqing Li
编辑:雷雨
---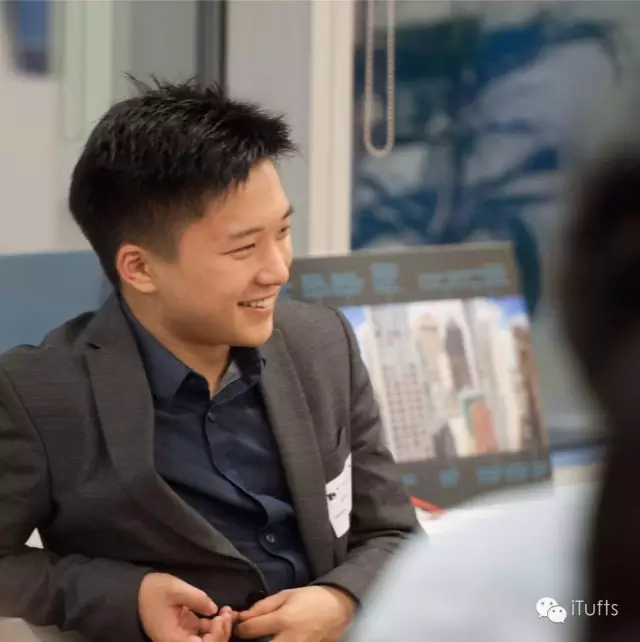 (Ben Wang  王韵墨 ©Ben)
Can you briefly introduce yourself and your background?
Ben: I was born in China and grew up in Canada. I graduated from Tufts in 2014 with a double major in international relations and political science, and a minor in economics.

After Tufts I went to Eurasia Group, which is a consultancy/private think tank in Washington D.C. that advises multinational corporations and financial institutions on how politics and policy affect their business. I spent two years there on the China team, working with a 5-person team led by the former senior Asia advisor to President Obama in the White House.
How did you decide what you wanted to do after you graduated in 2014?
Ben: I always knew that I had an interest in researching and analyzing politics. During college, I had experience interning at think tanks and research centers, but that led me to realizing that I am actually better suited to working in the faster-paced private sector. A company like Eurasia Group was the perfect combination of policy research and private-sector work, and I was very fortunate to get the role.
What made you decide to go back for graduate studies?
Ben: On a very broad level, it is something you have to do in this kind of work, where credibility is important. But I also felt that getting more training in economics, quantitative skills, as well as soft skills like negotiation or leadership (courses HKS are known for) would help me go further in my career.
How did you settle on Harvard Kennedy? How did it feel back in Spring this year when you first knew you would join Kennedy?
Ben: I actually struggled a lot with choosing my ideal graduate school.

I think I am not the only IR major who wanted to come to HKS: its faculty wrote many of the seminal texts, including our textbooks in IR, and the opportunity to sit in those classes is very hard to turn down. But many of my colleagues went to business school and since I prefer to stay in the private sector, I struggled for a long time to decide whether to wait for a few years and apply for an MBA instead.

In the end, in my research I found that HKS still has strong placements in the private sector, and the degree offers me the chance to move between public and private sectors in the future. But an MBA may still be in the offing in the future.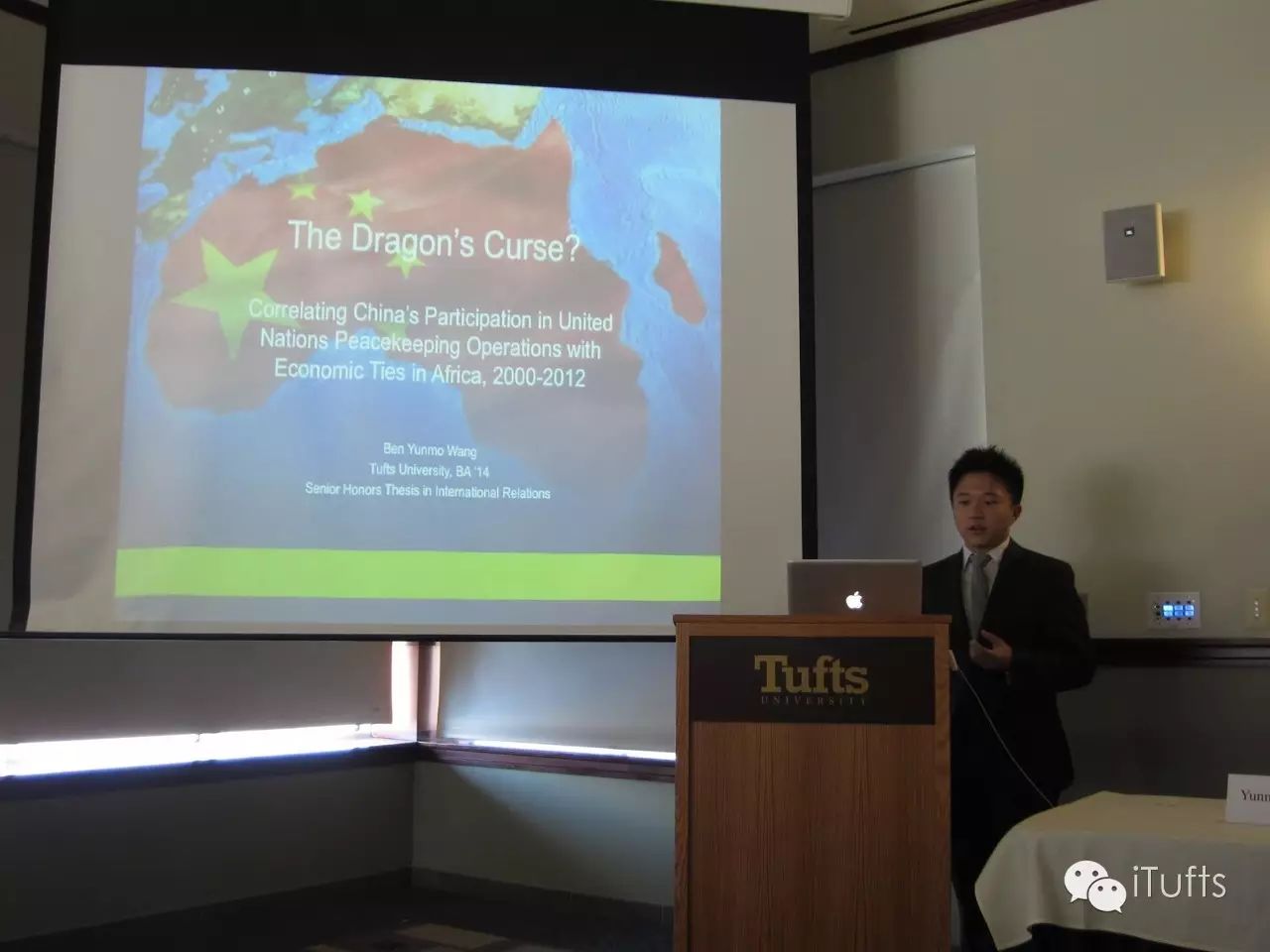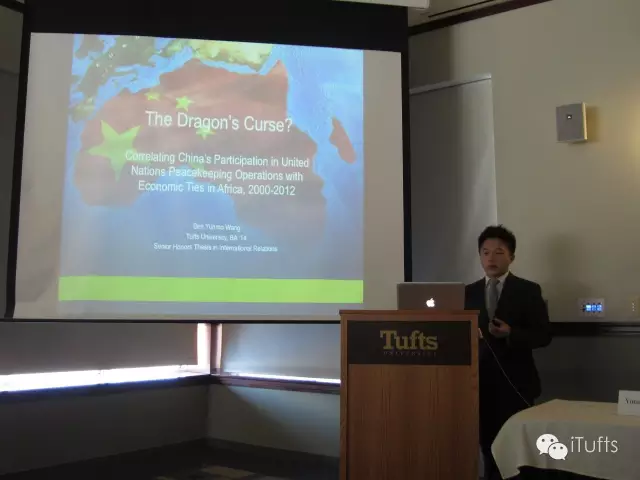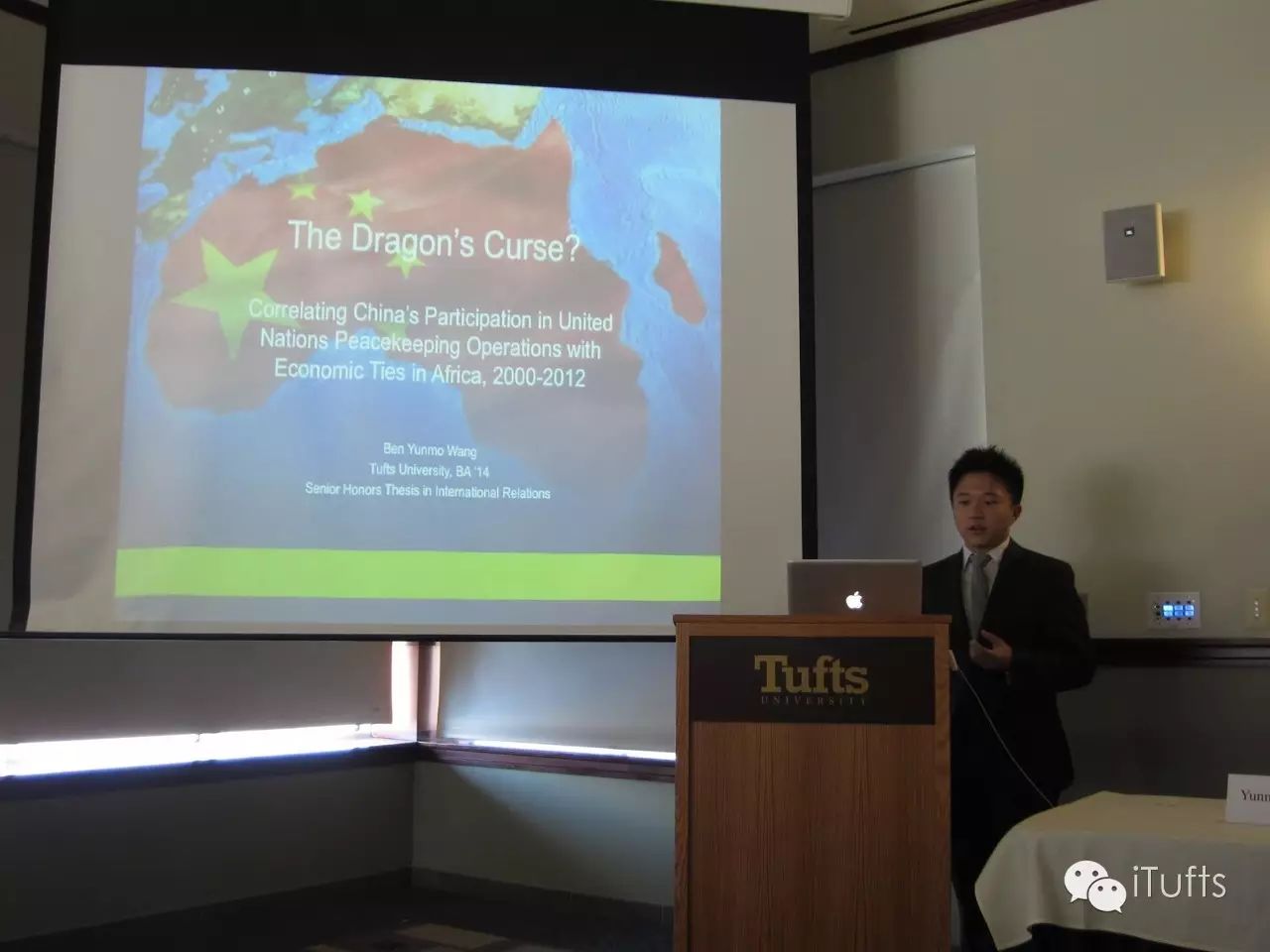 (介绍毕业论文 ©Ben)
What were some of the things that you did at Tufts that you think shaped your graduate application?
Ben: I think the first was the internship I did at the Harvard Humanitarian Initiative (HHI).

I took a course in the ExCollege at Tufts in my first year called Crisis Mapping, which was a new technology developed at Fletcher for the Haiti earthquake. AT the time, HHI (in partnership with one of the Centers at HKS) was looking to start a similar program and was looking for interns. Since our 20-person class were the only people trained to use this technology, they took me on as a summer intern even though I was a freshman. I ended up staying at the project for 1.5 years, working part-time through the semester, and this experience with HKS featured prominently in my application to explain why I wanted to go.

Another is Global China Connection (GCC), a club that Yihao and I started in the second half of our Freshman year at Tufts. We ended up running that club for three years, and I became President of the entire organization after I graduated. Now both Yihao and I serve as trustees for the organization. That was also a great opportunity to gain leadership experience.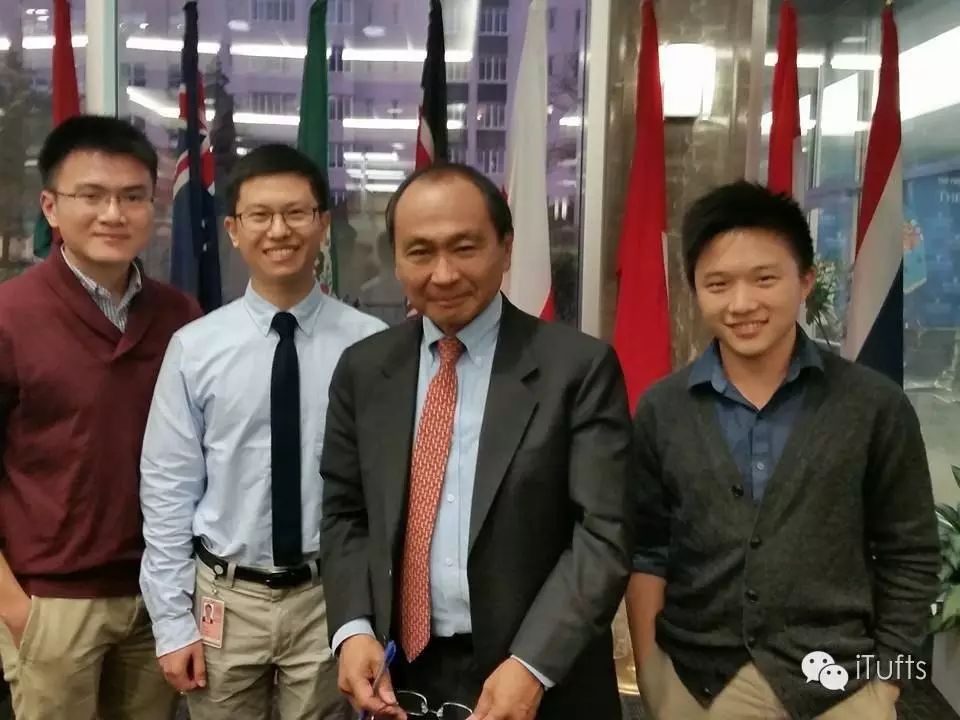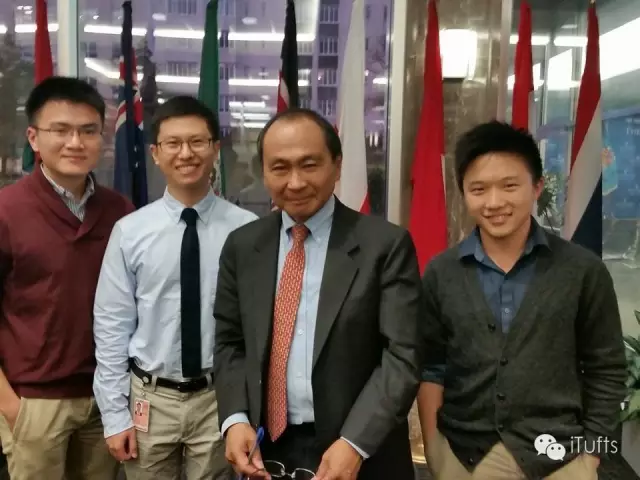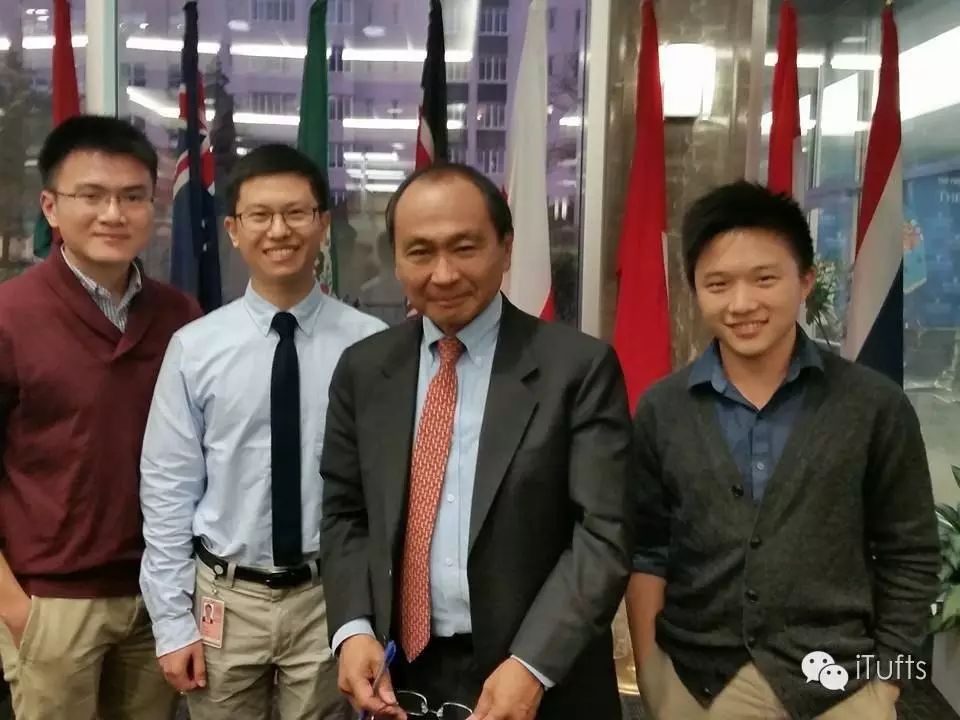 (在华盛顿特区参加由国际知名学者Francis Fukuyama弗朗西斯·福山主讲的读书会 ©Ben)
What are the topics you will focus on during graduate school?
Ben: I started a new student organization on political risk, which is related to my work experience at Eurasia Group.

We will run professional workshops and training to help my classmates break into the industry. It's one way of giving back and making connections between the people I meet and have met so far in my career.

Also, I am discovering other aspects of the offerings at HKS. Although I came in with the intention to focus on international affairs, I am learning more about the great academic offerings on social enterprise, and communications and leadership at HKS, and those are certainly areas that I want to explore both professionally and personally.
In what expected/unexpected ways have you been staying connected with Tufts?
Ben: I am actually still coming back to campus often, for internship panels and career panels with GCC and the US-China Symposium. It's been delightful to continue contributing to organizations I was passionate about in undergrad.
Any last pieces of advice you would give to undergraduates or those currently working and want to apply for a Master in Public Policy(MPP)?
Ben: I strongly recommend getting some work experience before applying for MPP/MPA programs.

For one, you might discover that you don't actually want to get a degree in public policy, and want an MBA or PhD instead. The master's degree is not something to just tick off on your checklist: Two years is a big commitment—think of your work experience as giving yourself more time to collect information.

Secondly, you will also be far more competitive applying with some work experience under your belt. HKS rarely admits candidates straight out of undergrad (those they do admit had significant internship experience, and near perfect GPA/GREs, which I certainly did not).

Thirdly, underlying the first two suggestions is the assumption that you will have much more to contribute to your program with work experience. There are some amazing classmates, and incredible professors who could mentor you. But you want to bring your share of insight and expertise to the table as well, in order to make the most of the experience.
---
---
You might also like
---